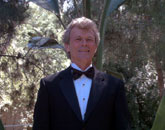 Jack Martin, Ph.D. was born and raised in Pittsburgh PA. Shortly after graduating high school, Jack's adventuresome nature led him to join the U.S. Navy where he served as a jet mechanic. Following his honorable discharge he returned to Pittsburgh where he became a skilled union brick mason.
In '71 he moved to California to pursue new adventures. Hang gliding became an avid sport, to the extent of competing nationally, and evolved into a business while pursuing a college degree. He graduated Magna Cum Laude from SDSU and was awarded a PhD degree in Physical Chemistry in '89 from UCSD/SDSU.
During his tenure at SDSU as a Post Doctoral Research Chemist he developed projects for the Department of Defense and also volunteered his expertise to the University's engineering department, from 1990 to 1993, to design and construct a solar powered car that competed in the 1993, 1800 mile World Solar Challenge race, from Darwin to Adelaide, across the Australian outback.
Following his retirement from academia, Jack began operation of an Internet business providing customers with a variety of Internet services. His 20 year old business continues today.
In '03 Jack's interest in music and people led him to Smooth and Rhythm Ballroom Dancing. Since then, he has expanded his skills and added more dances, including swing. He dances several nights a week, continues to learn, and volunteers his service to the dance community.
When not dancing, Jack enjoys other physical and social activities, such as board and card games, mountain and road biking, boogie boarding, and volleyball.
Jack trained for, participated in, and completed the annual Mission Bay Sprint Triathlon in 2010, 2011, 2012, 2013, 2014, and 2015. He is presently training for the 2016 event.
email: justdancingaround<at>gmail.com
voice: 619 287 3160
Owned and operated by Dr. Jack Martin
Home | Dance Portfolio | Links to San Diego Dance Venues